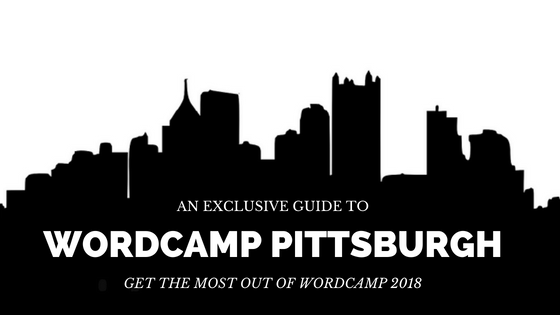 Pittsburgh will host its third annual WordCamp conference on September 22, 2018. Are you ready to learn, share, and absorb everything there is to know about WordPress? Conferences offer an overwhelming amount of activities, information, and free swag. Use this quick guide to help you get the most out of your WordCamp experience!
What Is WordCamp?
WordCamp is a conference focused on everything WordPress and it's designed for everyone from casual users to WordPress developers. WordCampers can expect to learn and share everything about WordPress from plugins and themes to programming and podcasting.
The first WordCamp was hosted in 2006 in San Francisco. Now there are over 800 WordCamps spanning six continents. Cities all over the world host their own WordCamp conferences every year including Pittsburgh!
Navigating WordCamp Pittsburgh 2018
After clearing your schedule and registering for the event, you can start preparing so you can maximize your WordCamp experience. Here's how to get started:
Start Networking
While the day of the conference hasn't arrived yet, that doesn't mean you can't get a head start on networking. Let people know you're attending and connect with other attendees over social media and email. Initiating discussion online ahead of time will make it easier to meet in person and share the WordCamp experience with others. Get all of the small talk out of the way so while you're at WordCamp you make the most out of face-to-face time with your new connections. You can share the even on social media and express your excitement or ask questions about particular sessions to get the conversation going. You may even get responses from presenters and conference organizers.
Get involved
Don't just be an attendee, get involved! Becoming a presenter or volunteering to help the conference organizers are great ways to get involved, network, and take full advantage of the conference. You can learn about volunteer opportunities for the 2018 Pittsburgh WordCamp here.
Plan Your Day
On the day of WordCamp, it's easy to get swept away in all the activity and become overwhelmed. Before diving into the first session you see, consider all of the presenters and topics on the schedule. What do you want to learn about WordCamp? You won't have time to attend every single one so, you should plan your day based on your goals and interests. Having clear goals will help you decide which sessions to attend.
If you're not looking for anything specific, just pick the events you find interesting and plan your schedule. Include a few of your second choices as backup sessions as well. If you find one topic isn't exactly what you were looking for, you can leave and go one of your backups. Don't feel bad for leaving a session early. It's better to make the most of your time there and presenters understand that there's a lot going on.
Take Notes
You don't want to forget everything you learn about WordPress the day after WordCamp. Take notes during sessions and collect business cards as you meet people. After listening to a few speakers, you may need a little help staying engaged. Writing things down will help you pay attention and practice active listening. Then, as you ask questions and discuss the topics with other attendees you can reference your notes.
Follow-up with Everyone
After the conference, you probably have a few business cards tucked away with your notes. Follow-up with the people you meet at WordCamp. You can send them an email or even just follow them on Twitter. They wouldn't give out business cards unless they wanted you to use them.
If you saw a speaker who inspired you, check out their website. They probably have contact information on their site so you can learn more about them and the topic they covered at WordCamp.
Share Your Experience
Remember all those notes you took? Now you can use them to share what you learned with others. Write a blog about a topic covered at WordCamp and share it on your site. Or create a presentation on your WordCamp experience and teach other members of your organization what you learned about WordPress. Sharing your new knowledge, connections, and experiences with others is the best way to take full advantage of the Pittsburgh WordCamp conference.
Are you attending WordCamp? Come find us!